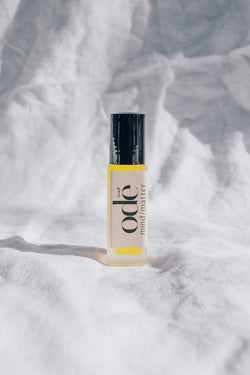 ODE TO SELF - MIND/MATTER
MADE IN AUSTRALIA
12ml
Breath. Slow. Trust the process.
With a blend of roots, herbs and peels, Mind/matter is an invigorating scent inspiring calmness and clarity. Expect bold citrus with peppery and herbaceous undertones. Mind/matter is a gentle reminder to s l o w down and is particularly useful for enhancing focus and assisting moments of stress.
Aroma description: Herbaceous, zesty, peppery, earthy
Main notes: Yuzu, rosemary, pink pepper, juniper berry
Properties: Inspires calmness and clarity

Ingredients: Essential oils of Japanese yuzu (Citrus junos), rosemary (Rosmarinus officinalis), juniper (Juniperus communis), atlas cedarwood (Cedrus atlantica), ginger (Zingiber officinale), pink pepper (Schinus molle), pink grapefruit (Citrus paradisi) and tangerine (Citrus reticulata) in a base of organic jojoba oil.

Hand-made, 100% natural perfume oil
Vegan and cruelty-free
Local and Australian ingredients